A documentary film has been produced covering the 8th Army Band that includes oral history interviews and narration, archival film footage, and historical photographs. The film is available from Old Segundo Productions and contains important new details about garrison life at the United Nations Command compound and extraordinary glimpses of musicianship while living under the threats and guerilla actions of the North Korean regime from the DMZ.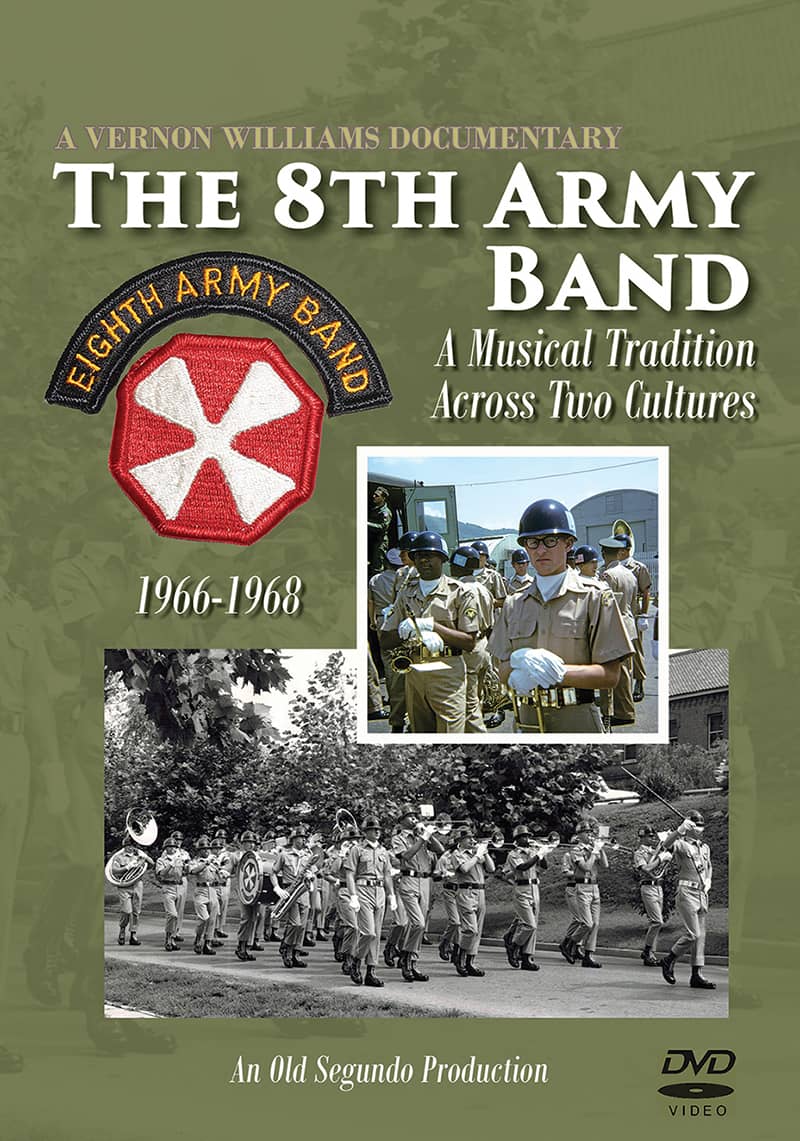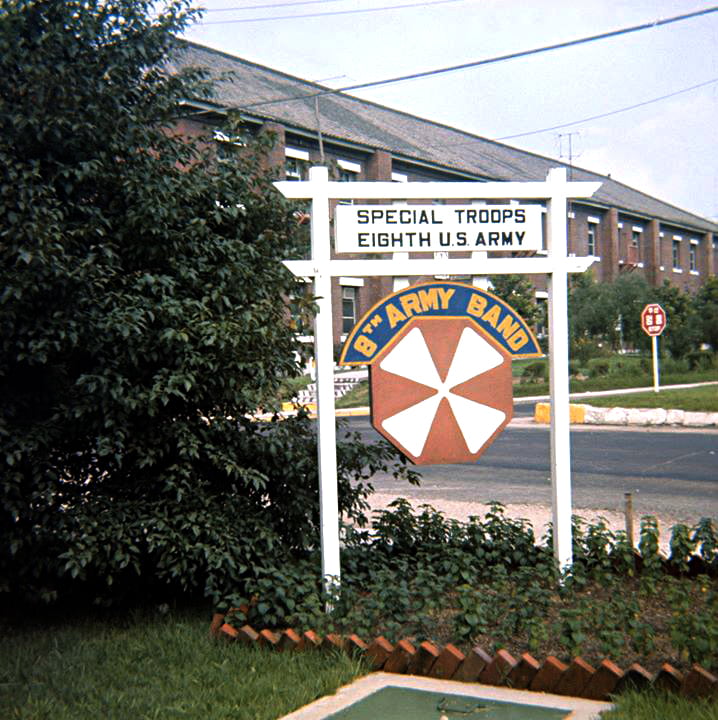 During the Cold War and the escalation of the Vietnam War, the number of military bands increased dramatically.
By 1965 the draft brought more and more musicians into military bands.
The 8th Army Band musicians in Korea reach out to orphans, the national symphony, to the Korean people everywhere.
Pearl Buck encounters an 8th Army Band musician one night in June 1967.
The musicians face a continuing threat of North Korean commandos in raids into Seoul.
Bandsmen and a new era of Korean war brides come home to America.
"The band, as everywhere, has a secondary mission of security. So when these 31 commandos entered the city, we went on a status of high alert and pulled security at some fortified concrete bunkers and around General Bonesteel's home."
Originally constituted in 1916 as the Band Section for the 35th Infantry Regiment, the Band served on the Mexican border during World War I. In World War II, and during the Korea War, the 35th served as part of the 25th Infantry. In November 1950, the band was reorganized as the 8th Army Band and assigned to the Republic of Korea. During combat operations in Korea, the 8th Army Band received a Meritorious Unit Commendation and two Korean Presidential Citations for its actions during the war.
By the 1960s, the Band had become a part of the United Nations Ceremonial Command, an important part of the Honor Guard. This documentary film focuses on the band in 1966-1968 when American foreign policy brought crisis to Korea, while at the same time, the Vietnam War accelerated the demands on American forces abroad. North Korean infiltration to targets in Seoul and elsewhere in South Korea, attacks on Americans and military facilities, and President Johnson's visit to South Korea—all became defining moments for the band as they assumed responsibility for guarding the United Nations Command Center at Yongsan in Seoul. This is their story.
If you were a member of the 8th Army Band in 1966-1968, contact Dr. Vernon L. Williams, Old Segundo Productions, to receive complimentary copies of this film for you, your children, and your grandchildren.  You can also request free copies for your local schools and/or public library.  Please email your request to:  [email protected] and thanks for your service.
Length 71 minutes
Purchase This Film at oldsegundo.com